Varicose Veins Treatment in Pune
Varicose veins are tortuous, elongated, twisted veins generally found in legs in approximately 20 percent of the population. They look like purple or green "rope-like" veins anywhere between groin to ankle, mostly found in the calf region.
Varicose veins are dilated, tortuous, elongated superficial (below skin) veins that are usually seen in the legs.
It can occur in any age group but most common in mid- twenties.
It is a progressive disease.
If you suffering from a Varicose Veins problem or having any symptoms related to it must consult a Qualified Laser Surgeon for Varicose Veins Treatment near you!! Dr. Abhijit Gotkhinde is the Best Laser Surgeon for Varicose Veins Treatment in Pune.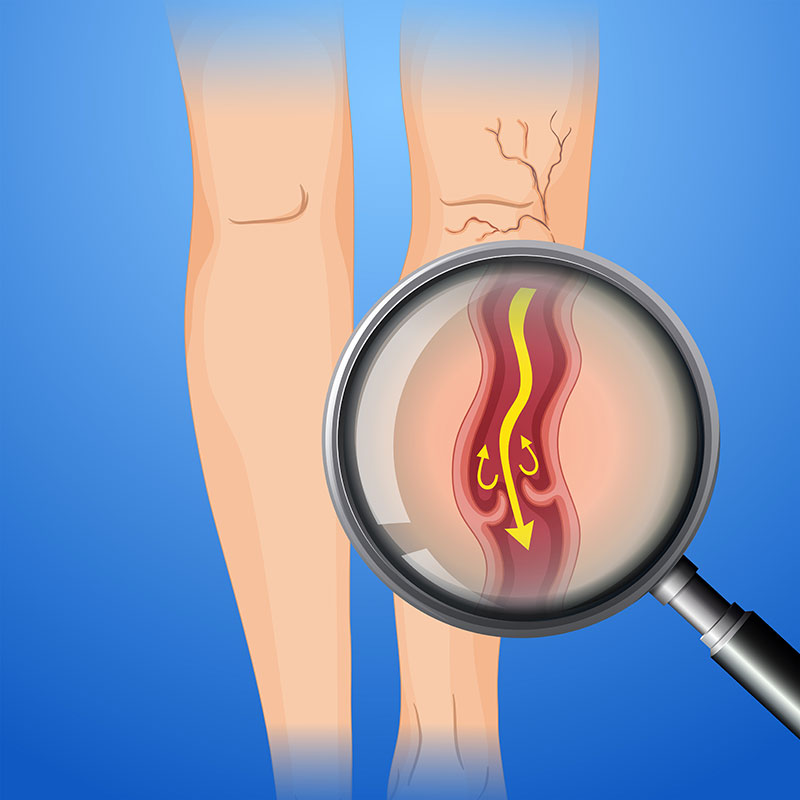 Causes of Varicose Veins
Varicose veins result from abnormal inner walls or abnormal valves in these blood vessels. Blood is carried through arteries from the heart to the rest of the body, and returned to the heart through the body's veins, called the venous system.
Veins have valves that act as one-way flaps, preventing blood from backing up and pooling. When these one-way valves don't work properly, blood then may flow backwards, causing the veins to dilate (enlarge) and become varicose. The technical terms for this condition are venous reflux or venous insufficiency.
Risk factors for Varicose veins and Spider Veins
Common risk factors for varicose and spider veins include:
Increasing age
Family history
Pregnancy and hormonal changes
Obesity
Prolonged standing
Prior deep venous thrombosis
Symptoms of  Varicose veins and Spider Veins
In many cases, varicose and spider veins cause no symptoms. However, these veins are often unattractive and may become painful. Prolonged sitting or standing tends to make legs with varicose veins feel worse. Some common symptoms of them include:
Aching pain
Itching
Burning
Leg swelling
Easily tired legs
Numbness in the legs
Leg heaviness
Darkening of the skin
Rash on the legs
Skin ulcers
Prevention of Varicose Veins
Aside from weight loss, there really is no way to prevent varicose veins. The symptoms however are quite easily treated with simple compression stockings. These come in a variety of sizes, shapes and colors and can be either prescription or over the counter.
Only knee high compression stockings are needed in the vast majority of patients and they only need to be worn during the day. Being vigilant with them is oftentimes enough to improve symptoms and prevent them from worsening.
Treatment options available
Open Surgery
Some older methods of treating varicose were "stripping" or manual removal of varicose veins via open surgery. However, these procedures are not used anymore because of their limitations and the availability of minimally invasive procedures.
Endo-Vascular-Laser-Ablation (EVLA) or Laser Varicose Vein Treatment
It is done with the help of a laser probe. The first step is to create a puncture wound over the affected vein. Then the laser probe is inserted in that vein. Laser energy is transferred to the vein walls. Gradually the probe is removed progressively ablating the complete vein from within. Once the vein has been completely ablated, the probe is removed and the puncture wound is covered.
Ineffectiveness from Compression Stockings
When symptoms from varicose veins do not improve with compression stockings or patients cannot tolerate their use, it is important that they see a physician who specializes in the treatment of varicose veins. For this, Dr. Abhijit Goykhinde is one of the Best Qualified Laparoscopic & Laser Surgeon for Varicose veins treatment in Pune. 
About Dr. Abhijit Gotkhinde – Laparoscopic & Laser Specialist Surgeon
Dr. Abhijit B. Gotkhinde
Consultant Laparoscopic & Laser Surgeon
MBBS, DNB (GEN SURGERY), FMAS,
FIAGES, Fellow in Adv lap.
Dr. Abhijit B. Gotkhinde is one of the Qualified basic & advanced Laparoscopic Surgeon and the best Laser Surgeons in the Hadapsar, Pune. He believes in delivering the most authentic and top-class services in Piles, Fissure, Fistula Treatments also Hernia Treatments like Epigastric Hernia, Umbilical hernias, Epigastric hernia, Inguinal hernia, Femoral Hernia.
He has extensive experience in GI & Colorectal surgeries. He has a special interest in Laparoscopic surgery (cholecystectomy, Appendectomy, Hernia, Hysterectomy & Hiatal surgery) and minimal access proctology surgery. (Piles, fissure & fistula).
There are various types of Hernia occurred in people. These hernias types include hiatus, incisional, and umbilical hernias. Symptoms are present in about 66% of people with Groin Hernias. So for that many treatments can be done for various Hernia Treatment within Laparoscopic Surgery Treatment. After trying various methods without complete information and knowledge many people fail to achieve the desired Laparoscopic Surgery or Laser Surgery for Hernia and Piles Treatment.
A well Qualified Professional in Laparoscopic Surgeon has the knowledge, expertise, and experience to treat patients who suffer from Hernia Treatments like Epigastric Hernia, Umbilical hernias, Epigastric hernia, Inguinal hernia, Femoral Hernia and Piles, Fissure, Fistula Treatments also.
Ultra Care Clinic is proud to say that we offer affordable quality care without any compromise, by a Qualified surgeon Dr. Abhijit Gotkhinde.
Watch Video
I met Dr. Gotkhinde for laparo chole surgery for gall stone. I want to treat it with medicine only. But with his knowledge of subject , crystal clear thinking and confidence I decided my mind and operated with him. In operation room I remember only one injection and when I woke up, surgery was over. Very little pain after surgery. Got discharge in 2 days.Thanks doctor.
After my difficult c section, I developed a hernia, I was really scared. My gyne sends me to Dr. Abhijit. It was a great decision to go with him. He done laparoscopy. My experience of surgery was exactly the same as what he told me before. He is a perfectionist surgeon.
Dr. Abhijit Gotkhinde sir operated my father for piles using a laser technique. Initially, we were quite anxious but after discussing with him about the procedure we felt confident. Surgery was done in less than 30 min & it was absolutely pain-free. He recovered in a single day. Within 1 week he is ready to work. Now we are thinking we would have done the procedure prior only. I must say, Dr. Gotkhinde is the best laser surgeon for piles.