Thyroid Treatment
When abnormal cells start to grow in the thyroid gland, it leads to thyroid cancer. Unlike other cancer types, thyroid cancer is often detected in its early stage and can be treated well in time by a leading thyroid. Thyroid Cancer Programme of Ultra Care Clinic is one of the most well-known programmes in the capital with state-of-the-art facilities to treat most of the complex conditions associated with Thyroid Cancer.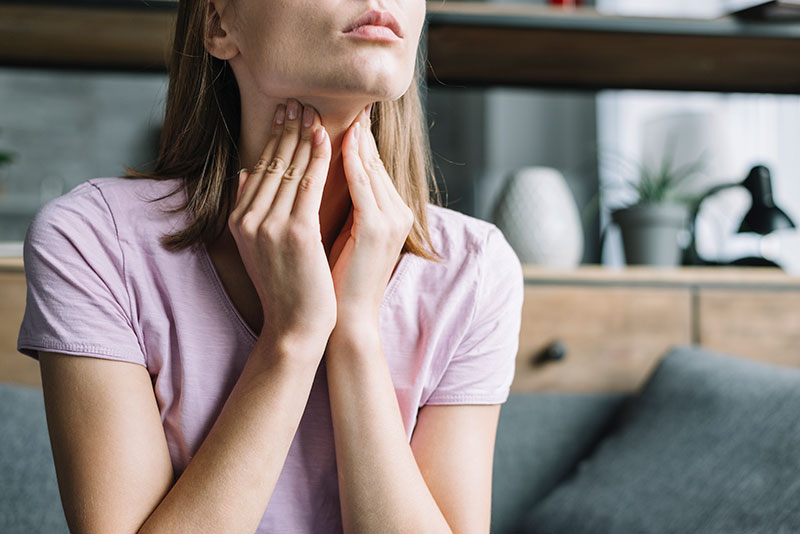 Who is a right doctor for thyroid disorder?
It is common that thyroid patients may wonder what type of doctor to see for thyroid conditions. The thyroid gland found in the neck is one of the largest endocrine glands. The most competent doctor to treat every thyroid condition is an endocrinologist. Endocrinology is the specialty that offers advanced training in the endocrine system which includes various glands and organs. These include the thyroid, pancreas, ovaries, testes and adrenal glands, among others. Endocrinologists are the most competent specialists to treat diabetes too.
Thyroid Nodules
A thyroid goiter is an enlargement of the thyroid gland. Thyroid nodules are lumps within the thyroid caused by the growth of abnormal thyroid tissue. These lumps are generally not harmful however a small percentage will be a cancer. It needs to get properly diagnosed and treated.
Goiter/Nodules Symptoms
An enlarged thyroid (goiter) can produce a swollen or tight feeling in the neck or throat. It can produce hoarseness of voice or coughing, difficulty in swallowing or breathing. Sometimes, the goiter is visible to yourself or others.
Symptoms of thyroid nodules (focal swelling) depend on the pressure they exert on the surrounding areas. Some cause no symptoms. Others may cause difficulty in swallowing with a feeling of fullness over the neck. Some can present with pain or tenderness in the neck or with hoarseness of voice. Some nodules present with hyperthyroidism like symptoms such as palpitations, insomnia, weight loss, anxiety, and tremors. Thyroid nodules can also present with hypothyroidism and symptoms might include weight gain, fatigue and depression
Thyroid Surgery
Endocrine specialists at Silverline hospital treat the group of glands in the body which secrete hormones; primarily the thyroid, the parathyroid, the adrenal and the pancreas. Thyroid diseases are extremely common and many at times not appropriately managed. Thyroid gland can be affected by hyperthyroidism, hypothyroidism, goiters, and thyroid cancer. Some of these disorders, especially goiters and nodules may need to be surgically removed because of its cancer risk. There are different types of thyroid surgery. Among them thyroidectomy is the most common. We are one of the very few advanced Thyroid surgery hospitals with the best endocrine surgeons.
About Dr. Abhijit Gotkhinde – Laparoscopic & Laser Specialist Surgeon
Dr. Abhijit B. Gotkhinde
Consultant Laparoscopic & Laser Surgeon
MBBS, DNB (GEN SURGERY), FMAS,
FIAGES, Fellow in Adv lap.
Dr. Abhijit B. Gotkhinde is one of the Qualified basic & advanced Laparoscopic Surgeon and the best Laser Surgeons in the Hadapsar, Pune. He believes in delivering the most authentic and top-class services in Piles, Fissure, Fistula Treatments also Hernia Treatments like Epigastric Hernia, Umbilical hernias, Epigastric hernia, Inguinal hernia, Femoral Hernia.
He has extensive experience in GI & Colorectal surgeries. He has a special interest in Laparoscopic surgery (cholecystectomy, Appendectomy, Hernia, Hysterectomy & Hiatal surgery) and minimal access proctology surgery. (Piles, fissure & fistula).
There are various types of Hernia occurred in people. These hernias types include hiatus, incisional, and umbilical hernias. Symptoms are present in about 66% of people with Groin Hernias. So for that many treatments can be done for various Hernia Treatment within Laparoscopic Surgery Treatment. After trying various methods without complete information and knowledge many people fail to achieve the desired Laparoscopic Surgery or Laser Surgery for Hernia and Piles Treatment.
A well Qualified Professional in Laparoscopic Surgeon has the knowledge, expertise, and experience to treat patients who suffer from Hernia Treatments like Epigastric Hernia, Umbilical hernias, Epigastric hernia, Inguinal hernia, Femoral Hernia and Piles, Fissure, Fistula Treatments also.
Ultra Care Clinic is proud to say that we offer affordable quality care without any compromise, by a Qualified surgeon Dr. Abhijit Gotkhinde.
Watch Video
I met Dr. Gotkhinde for laparo chole surgery for gall stone. I want to treat it with medicine only. But with his knowledge of subject , crystal clear thinking and confidence I decided my mind and operated with him. In operation room I remember only one injection and when I woke up, surgery was over. Very little pain after surgery. Got discharge in 2 days.Thanks doctor.
After my difficult c section, I developed a hernia, I was really scared. My gyne sends me to Dr. Abhijit. It was a great decision to go with him. He done laparoscopy. My experience of surgery was exactly the same as what he told me before. He is a perfectionist surgeon.
Dr. Abhijit Gotkhinde sir operated my father for piles using a laser technique. Initially, we were quite anxious but after discussing with him about the procedure we felt confident. Surgery was done in less than 30 min & it was absolutely pain-free. He recovered in a single day. Within 1 week he is ready to work. Now we are thinking we would have done the procedure prior only. I must say, Dr. Gotkhinde is the best laser surgeon for piles.