Piles or Haemorrhoids Treatment in Pune
Piles or Haemorrhoids is enlargement or dilation of blood vessels in the rectal region. These blood vessels are called haemorrhoidal blood vessels. The word 'Haemorrhoids' is derived from the Greek word. Haima (bleed) + Rhoos (flowering), which means bleeding. The pile is derived from the Latin word 'Pila' meaning Ball.
If you suffering from Piles or a Haemorrhoids problem must consult a Qualified Laser Surgeon for Piles Treatment near you!!
Dr. Abhijit Gotkhinde is the Best Laser Surgeon for Piles in Pune.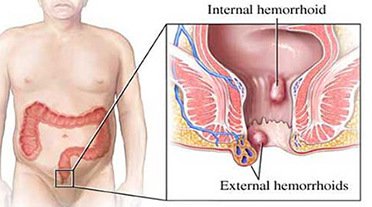 Piles can be of three types:
Symptoms of Piles
The main symptom is painless "fresh red" bleeding during passing stools. Blood falls as drops or "splash in the pan" appearance. One may also feel a mass coming from the anus. Piles occur more commonly in young or middle-aged adults.
Other symptoms of Piles are as follows:
Itchiness around the anus
Blood in the stools
Presence of pain during defecation – due to the associated fissure in ano.
Presence of a hard lump around the anus
Discharge of mucus while emptying the bowels
Sore and red anus
Sense of fullness in the anus; even after going to the toilet
Generalized weakness due to anemia
What can happen if I ignore piles treatment?
Many times patients feel embarrassed to seek medical treatment for piles. It is recommended to consult doctors when symptoms of piles are noted.
The following complications may occur due to untreated piles:

Infection
Anal fistula
Gangrene
Incontinence in rare cases
Anemia due to excessive blood loss.
Causes of Piles
Straining
Diarrhea
Constipation
Hard stool
Low fiber diet
Dehydration
Vein damage
Risk factors with Piles
Obesity
Pregnancy
Old age
Associated diseases like cancer
Diseases that make patients bed ridden like paralysis
Severity of Piles
The severity of Piles or haemorrhoids is given below.
Grade I or First-degree haemorrhoids – these piles do not prolapse.
Grade II or Second-degree haemorrhoids – these piles prolapse on straining.
Grade III or Third-degree haemorrhoids – these piles prolapse on straining.
Grade IV or Fourth-degree haemorrhoids – these types of piles get permanently prolapsed.
This approach is used for the treatment of hemorrhoids under appropriate anesthesia. The fiber of the laser is inserted centrally into the hemorrhoidal node and energy is delivered. By this technique, hemorrhoids can be treated according to their size without causing any damage to the anoderm or mucosa.
Laser Haemorrhoidoplasty is the preferred treatment for Grade 2 and early stages of Grade 3 Piles. This procedure is done under short general anesthesia and takes about 20 minutes. Through the natural anal opening, laser energy is applied using a special radially emitting fiber. The controlled emission of laser energy causes vaporization leading the haemorrhoidal mass to shrink
Advantages of LHP
No cuts, no open wounds
Less post-operative pain as compared to other procedures
Healing is excellent as there are no cuts or stitches
No sense of urgency ( need to rush to the toilet ) after the procedure
No risk of rectal stenosis
Patient can return to normal activities within a shorter space of time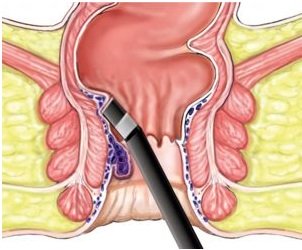 About Dr. Abhijit Gotkhinde – Laparoscopic & Laser Specialist Surgeon
Dr. Abhijit B. Gotkhinde
Consultant Laparoscopic & Laser Surgeon
MBBS, DNB (GEN SURGERY), FMAS,
FIAGES, Fellow in Adv lap.
Dr. Abhijit B. Gotkhinde is one of the Qualified basic & advanced Laparoscopic Surgeon and the best Laser Surgeons in the Hadapsar, Pune. He believes in delivering the most authentic and top-class services in Piles, Fissure, Fistula Treatments also Hernia Treatments like Epigastric Hernia, Umbilical hernias, Epigastric hernia, Inguinal hernia, Femoral Hernia.
He has extensive experience in GI & Colorectal surgeries. He has a special interest in Laparoscopic surgery (cholecystectomy, Appendectomy, Hernia, Hysterectomy & Hiatal surgery) and minimal access proctology surgery. (Piles, fissure & fistula).
There are various types of Hernia occurred in people. These hernias types include hiatus, incisional, and umbilical hernias. Symptoms are present in about 66% of people with Groin Hernias. So for that many treatments can be done for various Hernia Treatment within Laparoscopic Surgery Treatment. After trying various methods without complete information and knowledge many people fail to achieve the desired Laparoscopic Surgery or Laser Surgery for Hernia and Piles Treatment.
A well Qualified Professional in Laparoscopic Surgeon has the knowledge, expertise, and experience to treat patients who suffer from Hernia Treatments like Epigastric Hernia, Umbilical hernias, Epigastric hernia, Inguinal hernia, Femoral Hernia and Piles, Fissure, Fistula Treatments also.
Ultra Care Clinic is proud to say that we offer affordable quality care without any compromise, by a Qualified surgeon Dr. Abhijit Gotkhinde.
Watch Video
I met Dr. Gotkhinde for laparo chole surgery for gall stone. I want to treat it with medicine only. But with his knowledge of subject , crystal clear thinking and confidence I decided my mind and operated with him. In operation room I remember only one injection and when I woke up, surgery was over. Very little pain after surgery. Got discharge in 2 days.Thanks doctor.
After my difficult c section, I developed a hernia, I was really scared. My gyne sends me to Dr. Abhijit. It was a great decision to go with him. He done laparoscopy. My experience of surgery was exactly the same as what he told me before. He is a perfectionist surgeon.
Dr. Abhijit Gotkhinde sir operated my father for piles using a laser technique. Initially, we were quite anxious but after discussing with him about the procedure we felt confident. Surgery was done in less than 30 min & it was absolutely pain-free. He recovered in a single day. Within 1 week he is ready to work. Now we are thinking we would have done the procedure prior only. I must say, Dr. Gotkhinde is the best laser surgeon for piles.