Breast Surgery
Breast cancer is treated in several ways. It depends on the kind of breast cancer and how far it has spread. People with breast cancer often get more than one kind of treatment. Surgery an operation where doctors cut out cancer tissue. Chemotherapy using special medicines to shrink or kill the cancer cells. The drugs can be pills you take or medicines given in your veins, or sometimes both.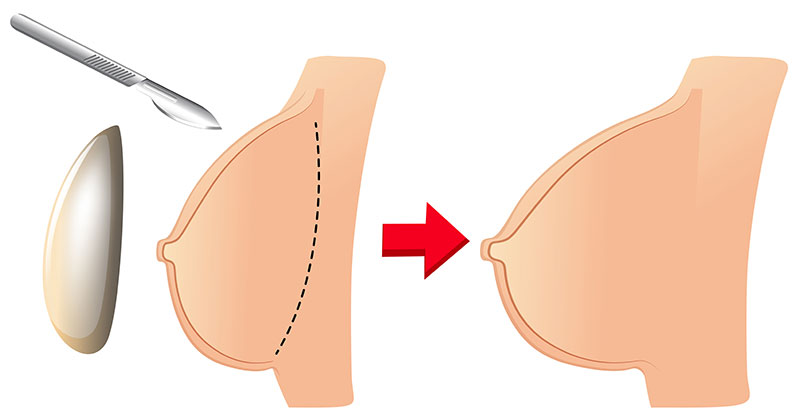 Hormonal therapy. Blocks cancer cells from getting the hormones they need to grow.
Biological therapy. Works with your body's immune system to help it fight cancer cells or to control side effects from other cancer treatments.
Radiation therapy. Using high-energy rays (similar to X-rays) to kill the cancer cells.
Breast cancer surgery
Removing the breast cancer (lumpectomy). During a lumpectomy, which may be referred to as breast-conserving surgery or wide local excision, the surgeon removes the tumor and a small margin of surrounding healthy tissue.A lumpectomy may be recommended for removing smaller tumors. Some people with larger tumors may undergo chemotherapy before surgery to shrink a tumor and make it possible to remove completely with a lumpectomy procedure.
Removing the entire breast (mastectomy). A mastectomy is an operation to remove all of your breast tissue. Most mastectomy procedures remove all of the breast tissue — the lobules, ducts, fatty tissue and some skin, including the nipple and areola (total or simple mastectomy).Newer surgical techniques may be an option in selected cases in order to improve the appearance of the breast. Skin-sparing mastectomy and nipple-sparing mastectomy are increasingly common operations for breast cancer.
Removing a limited number of lymph nodes (sentinel node biopsy). To determine whether cancer has spread to your lymph nodes, your surgeon will discuss with you the role of removing the lymph nodes that are the first to receive the lymph drainage from your tumor.If no cancer is found in those lymph nodes, the chance of finding cancer in any of the remaining lymph nodes is small and no other nodes need to be removed.
Removing several lymph nodes (axillary lymph node dissection). If cancer is found in the sentinel lymph nodes, your surgeon will discuss with you the role of removing additional lymph nodes in your armpit.
Removing both breasts. Some women with cancer in one breast may choose to have their other (healthy) breast removed (contralateral prophylactic mastectomy) if they have a very increased risk of cancer in the other breast because of a genetic predisposition or strong family history.Most women with breast cancer in one breast will never develop cancer in the other breast. Discuss your breast cancer risk with your doctor, along with the benefits and risks of this procedure.
About Dr. Abhijit Gotkhinde – Laparoscopic & Laser Specialist Surgeon
Dr. Abhijit B. Gotkhinde
Consultant Laparoscopic & Laser Surgeon
MBBS, DNB (GEN SURGERY), FMAS,
FIAGES, Fellow in Adv lap.
Dr. Abhijit B. Gotkhinde is one of the Qualified basic & advanced Laparoscopic Surgeon and the best Laser Surgeons in the Hadapsar, Pune. He believes in delivering the most authentic and top-class services in Piles, Fissure, Fistula Treatments also Hernia Treatments like Epigastric Hernia, Umbilical hernias, Epigastric hernia, Inguinal hernia, Femoral Hernia.
He has extensive experience in GI & Colorectal surgeries. He has a special interest in Laparoscopic surgery (cholecystectomy, Appendectomy, Hernia, Hysterectomy & Hiatal surgery) and minimal access proctology surgery. (Piles, fissure & fistula).
There are various types of Hernia occurred in people. These hernias types include hiatus, incisional, and umbilical hernias. Symptoms are present in about 66% of people with Groin Hernias. So for that many treatments can be done for various Hernia Treatment within Laparoscopic Surgery Treatment. After trying various methods without complete information and knowledge many people fail to achieve the desired Laparoscopic Surgery or Laser Surgery for Hernia and Piles Treatment.
A well Qualified Professional in Laparoscopic Surgeon has the knowledge, expertise, and experience to treat patients who suffer from Hernia Treatments like Epigastric Hernia, Umbilical hernias, Epigastric hernia, Inguinal hernia, Femoral Hernia and Piles, Fissure, Fistula Treatments also.
Ultra Care Clinic is proud to say that we offer affordable quality care without any compromise, by a Qualified surgeon Dr. Abhijit Gotkhinde.
Watch Video
I met Dr. Gotkhinde for laparo chole surgery for gall stone. I want to treat it with medicine only. But with his knowledge of subject , crystal clear thinking and confidence I decided my mind and operated with him. In operation room I remember only one injection and when I woke up, surgery was over. Very little pain after surgery. Got discharge in 2 days.Thanks doctor.
After my difficult c section, I developed a hernia, I was really scared. My gyne sends me to Dr. Abhijit. It was a great decision to go with him. He done laparoscopy. My experience of surgery was exactly the same as what he told me before. He is a perfectionist surgeon.
Dr. Abhijit Gotkhinde sir operated my father for piles using a laser technique. Initially, we were quite anxious but after discussing with him about the procedure we felt confident. Surgery was done in less than 30 min & it was absolutely pain-free. He recovered in a single day. Within 1 week he is ready to work. Now we are thinking we would have done the procedure prior only. I must say, Dr. Gotkhinde is the best laser surgeon for piles.