Fistula Treatment in Pune
This is an infection that does not heal right away. An anus Fistula is a tunnel that runs from inside of the anus the part from which the body gets rid of the solid waste, to somewhere in the skin all around it. Surgery is the only option to get rid of Fistula as sometimes, they close on their own and open up again. Thus, to prevent its recurrence and to protect the sphincter muscles, it is advised to get surgery done as damage to such muscles may lead to fecal incontinence.
If you suffering from a Fistula problem or having any symptoms related to it must consult a Qualified Laser Surgeon for Fistula Treatment near you!!
Dr. Abhijit Gotkhinde is the Best Laser Surgeon for Fistula Treatment in Pune.
Causes & Symptoms​
The most common cause of fistula is a sequel of previous abscess or pus cavity. The pus formation is a result of an anal gland infection. When this abscess fails to heal completely, with or without treatment, a fistula is formed. This track will get some stool pieces entering the track from time to time, leading to infection and frequent mucus discharge. This makes it a non-healing wound.
Some diseases can also cause fistula including
Cancer
Tuberculosis
HIV and other sexually transmitted diseases
Symptoms:
There is another opening in the buttocks skin other than the natural opening
Pus/mucus discharge on and off
Itching and redness around the opening
Swelling And Pain Around The Anus.
Skin Irritation Around The Anus.
Fever And Fatigue
Bleeding
Severe Pain With Bowel Movements.
Pus Drainage Or Bleeding From The Opening Around The Anus.
Foul Smell From Pus Bleeding.
Anal Abscess
What can happen if I ignore Fistula treatment?
Taking treatment at an early stage is the key. If ignored, simple fistulas often turn into complex fistulas which are much more difficult to treat, have poorer results and may require multiple surgeries.
This is one of the most modern techniques for treating fistula in ano. In this technique, a laser probe is used to clean the fistulous tract. The laser probe is also used to burn the track from within. This requires less tissue dissection and accordingly have a faster recovery and less discomfort.
Once the track has been burnt or 'ligated' sufficiently then the fistula tract collapses and natural healing fills the wound from within.
Advantages:
Tissue damage is significantly less.
Healing is faster.
Recovery time is shorter.
Little loss of leaves from work.
Less pain and discomfort.
Less dressings required.
Less follow ups required.
Satisfactory results
Disadvantages
Relatively more expensive.
Not suited for each and every case.
Carries risk and complications of surgery.
The risk of anesthesia is present.
Hospital stay required for at least 24 hrs
Various blood tests and investigations required.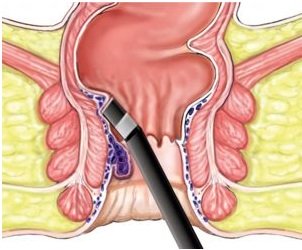 The use of laser bypasses many complications caused due to tissue dissection. However, some complications can be:
Recurrence of fistula – this can be significantly reduced with correct post-operative guidance about diet and lifestyle modifications.
Complications of anesthesia: The procedure is generally done under spinal anesthesia. Spinal anesthesia carries some risks like:

Spinal headache
Urine retention

However, the chances of these occurring is very minimal and often avoided with proper care and guidance.
The risk associated with anesthesia.
It involved treatment by antibiotics. anti-inflammatory medication and other supportive treatment measures. However, these provide only symptomatic relief. The root cause of the patent fistula tract causing the disease is not addressed.
Only medical management leads to the recurrence of the disease. With every recurrence, the chances of successful treatment in the future decrease significantly, and complication of disease increases significantly.
This is a very popular method of fistula treatment.
In this method, a medicated wire is passed through the fistula tract.
The ksharsutra wire is tightened slowly over the next few weeks over several sittings.
Eventually, the fistula tract closes and a scar tissue remains.
Advantages

Less expensive.
Can be done as a day procedure.
Often considered free of side effects because of ayurvedic influence.

Disadvantages

High recurrence rate.
Technique is only applicable to simple fistulas.
Many visits to the hospital required.
Other associated problems like a spasm of the anal sphincter not addressed.
There are various techniques for doing open surgery. Some are listed below. The underlying common factor in all open surgeries is that they require more healing and recovery time as tissue dissection is more. Accordingly, they are full-fledged surgical procedures and require hospital admission, pre-operative assessment, and examination.
They are generally done under spinal anesthesia:

Laying open the fistula—fistulotomy with curettage.
Fistulectomy – complete removal of the tract.
Mucosal flap procedure.
Fistulectomy with primary repair.
Fistulectomy with a secondary repair.

Advantages:

Most tried and tested methods of treatment.
Can be modified according to every case.
Removes the fistula completely hence minimal chances of recurrence.

Disadvantages:

Requires hospital admission up to 24 to 48 hrs.
Recovery time is slow.
Multiple visits to the hospital for follow-up.
Multiple sessions of dressing required.
Discomfort is more.
About Dr. Abhijit Gotkhinde – Laparoscopic & Laser Specialist Surgeon
Dr. Abhijit B. Gotkhinde
Consultant Laparoscopic & Laser Surgeon
MBBS, DNB (GEN SURGERY), FMAS,
FIAGES, Fellow in Adv lap.
Dr. Abhijit B. Gotkhinde is one of the Qualified basic & advanced Laparoscopic Surgeon and the best Laser Surgeons in the Hadapsar, Pune. He believes in delivering the most authentic and top-class services in Piles, Fissure, Fistula Treatments also Hernia Treatments like Epigastric Hernia, Umbilical hernias, Epigastric hernia, Inguinal hernia, Femoral Hernia.
He has extensive experience in GI & Colorectal surgeries. He has a special interest in Laparoscopic surgery (cholecystectomy, Appendectomy, Hernia, Hysterectomy & Hiatal surgery) and minimal access proctology surgery. (Piles, fissure & fistula).
There are various types of Hernia occurred in people. These hernias types include hiatus, incisional, and umbilical hernias. Symptoms are present in about 66% of people with Groin Hernias. So for that many treatments can be done for various Hernia Treatment within Laparoscopic Surgery Treatment. After trying various methods without complete information and knowledge many people fail to achieve the desired Laparoscopic Surgery or Laser Surgery for Hernia and Piles Treatment.
A well Qualified Professional in Laparoscopic Surgeon has the knowledge, expertise, and experience to treat patients who suffer from Hernia Treatments like Epigastric Hernia, Umbilical hernias, Epigastric hernia, Inguinal hernia, Femoral Hernia and Piles, Fissure, Fistula Treatments also.
Ultra Care Clinic is proud to say that we offer affordable quality care without any compromise, by a Qualified surgeon Dr. Abhijit Gotkhinde.
Watch Video
I met Dr. Gotkhinde for laparo chole surgery for gall stone. I want to treat it with medicine only. But with his knowledge of subject , crystal clear thinking and confidence I decided my mind and operated with him. In operation room I remember only one injection and when I woke up, surgery was over. Very little pain after surgery. Got discharge in 2 days.Thanks doctor.
After my difficult c section, I developed a hernia, I was really scared. My gyne sends me to Dr. Abhijit. It was a great decision to go with him. He done laparoscopy. My experience of surgery was exactly the same as what he told me before. He is a perfectionist surgeon.
Dr. Abhijit Gotkhinde sir operated my father for piles using a laser technique. Initially, we were quite anxious but after discussing with him about the procedure we felt confident. Surgery was done in less than 30 min & it was absolutely pain-free. He recovered in a single day. Within 1 week he is ready to work. Now we are thinking we would have done the procedure prior only. I must say, Dr. Gotkhinde is the best laser surgeon for piles.