Pilonidal Sinus Treatment
The pilonidal sinus or cyst is regarded as the small hole or channel in the skin. The Pilonidal Sinus is the form of the cyst which is filled with the pus, hairs, dirt, and debris that may lead to severe pain. It may lead to foul-smelling discharge. Usually, Cab Drivers and Shop Keepers who are performing sitting jobs for long hours may be caught with the disease. This usually happens when the hair on the body pushes inside the body causing pain and dirt to push inside.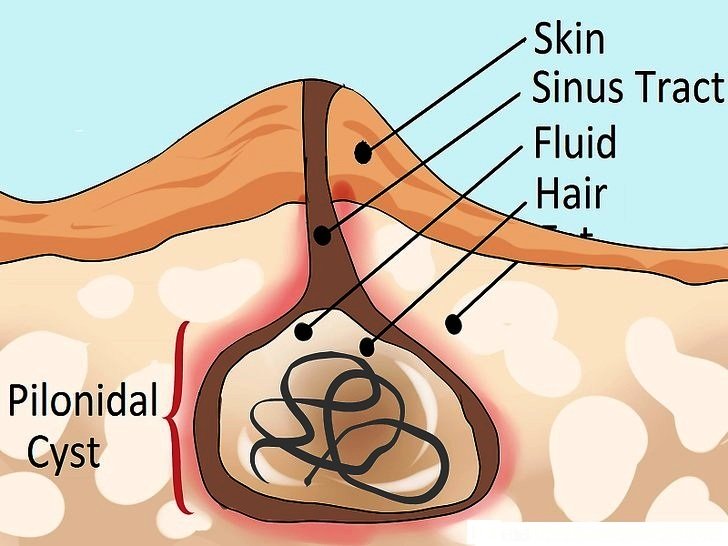 Symptoms of Pilonidal Sinus
It is a tract, situated short distance behind the anus, containing hairs and unhealthy diseased tissue (granulation). It is due to the penetration of hair through the skin into subcutaneous tissue. It forms a granuloma / unhealthy granulation tissue in deeper plane.
Nausea, Fever, And Fatigue.
 Pain While Sitting Or Standing.
 Redness And The Swollen Area Between Buttocks.
 Foul Smell From The Abscess With Pus Or Blood Drainage.
 Formation Of Small Holes In The Skin.
Causes of Pilonidal Sinus
In Latin pilus means hair and nidus means nest.
Hence it is a disease caused due to hair follicle getting infected over many weeks and months until an abscess cavity or a tunnel (sinus) is formed which starts oozing foul smelling discharge, pus and blood.
Progress of Pilonidal Sinus in the body
Nearly all patients have an acute abscess episode (the area is swollen, tender and pus may drain from it). After the abscess goes away, either by itself or with medical care, many patients develop a pilonidal sinus.
The sinus is a cavity below the skin surface that connects to the surface through one or more small openings. Some sinus tracts may resolve on their own, however, most patients need minor surgery to remove them.
Laser Surgery or Laser pilonidal sinus
This is the latest method of doing the treatment. In this method, a laser probe is used to clean the pilonidal sinus. All the infected tissue is removed. The walls of the tunnel are burnt or ablated from within with the help of laser probes.
The tissue dissection is very less. It is a cosmetically superior procedure.
Less number of follow-ups and dressing is required. The discomfort is far less and recovery time is faster
This is the most preferred treatment option for people who are concerned about not getting leaves from office or work etc.
One can get back to a daily routine within a span of two to three days after surgery.
About Dr. Abhijit Gotkhinde – Laparoscopic & Laser Specialist Surgeon
Dr. Abhijit B. Gotkhinde
Consultant Laparoscopic & Laser Surgeon
MBBS, DNB (GEN SURGERY), FMAS,
FIAGES, Fellow in Adv lap.
Dr. Abhijit B. Gotkhinde is one of the Qualified basic & advanced Laparoscopic Surgeon and the best Laser Surgeons in the Hadapsar, Pune. He believes in delivering the most authentic and top-class services in Piles, Fissure, Fistula Treatments also Hernia Treatments like Epigastric Hernia, Umbilical hernias, Epigastric hernia, Inguinal hernia, Femoral Hernia.
He has extensive experience in GI & Colorectal surgeries. He has a special interest in Laparoscopic surgery (cholecystectomy, Appendectomy, Hernia, Hysterectomy & Hiatal surgery) and minimal access proctology surgery. (Piles, fissure & fistula).
There are various types of Hernia occurred in people. These hernias types include hiatus, incisional, and umbilical hernias. Symptoms are present in about 66% of people with Groin Hernias. So for that many treatments can be done for various Hernia Treatment within Laparoscopic Surgery Treatment. After trying various methods without complete information and knowledge many people fail to achieve the desired Laparoscopic Surgery or Laser Surgery for Hernia and Piles Treatment.
A well Qualified Professional in Laparoscopic Surgeon has the knowledge, expertise, and experience to treat patients who suffer from Hernia Treatments like Epigastric Hernia, Umbilical hernias, Epigastric hernia, Inguinal hernia, Femoral Hernia and Piles, Fissure, Fistula Treatments also.
Ultra Care Clinic is proud to say that we offer affordable quality care without any compromise, by a Qualified surgeon Dr. Abhijit Gotkhinde.
Watch Video
I met Dr. Gotkhinde for laparo chole surgery for gall stone. I want to treat it with medicine only. But with his knowledge of subject , crystal clear thinking and confidence I decided my mind and operated with him. In operation room I remember only one injection and when I woke up, surgery was over. Very little pain after surgery. Got discharge in 2 days.Thanks doctor.
After my difficult c section, I developed a hernia, I was really scared. My gyne sends me to Dr. Abhijit. It was a great decision to go with him. He done laparoscopy. My experience of surgery was exactly the same as what he told me before. He is a perfectionist surgeon.
Dr. Abhijit Gotkhinde sir operated my father for piles using a laser technique. Initially, we were quite anxious but after discussing with him about the procedure we felt confident. Surgery was done in less than 30 min & it was absolutely pain-free. He recovered in a single day. Within 1 week he is ready to work. Now we are thinking we would have done the procedure prior only. I must say, Dr. Gotkhinde is the best laser surgeon for piles.