Laparoscopic Appendix Surgery Treatment
The appendix is a long narrow tube about few inches in length that attaches to the first part of the colon which is also known as cecum.It is usually located in the lower quadrant of the abdominal cavity. Its functions, however, is not identified yet. It is still considered a vestigial organ.
What is Appendicitis?
Appendicitis is an inflammation of the appendix, it usually causes pain in your lower right abdomen. However, in most of the people, pain begins around the navel and then moves. As inflammation starts, appendicitis pain typically increases and eventually becomes severe.Standard treatment is surgical removal of the appendix called Appendectomy.
Why do we need Appendectomy?
Acute recurrent appendicitis
– Carcinoid tumour of the appendix
– Mucocele of the appendix
– As interval appendectomy after drainage of appendicular abscess or after appendicular mass
What is Laparoscopic Appendectomy?
Appendicitis is one of the most common surgical problems. One out of every 2,000 people has an appendectomy sometime during their lifetime. Treatment requires an operation to remove the infected appendix. In laparoscopic procedure for removal of the appendix, appendectomies, surgeons operate through 3 small incisions which are arpond 5mm in size, while watching an enlarged image on a high definition monitor.
Advantages of Laparoscopic Appendectomy?
Less post-operative pain related to size of incision- smaller incisions
Less Handling of intestines which results in little or no disturbance of normal function
No scars
No drains and pipes
May result in a quicker return to bowel function
Better cosmetic results
Treatment of Appendicitis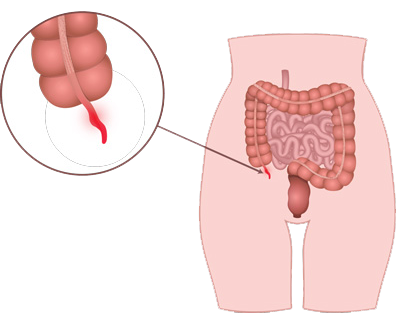 About Dr. Abhijit Gotkhinde – Laparoscopic & Laser Specialist Surgeon
Dr. Abhijit B. Gotkhinde
Consultant Laparoscopic & Laser Surgeon
MBBS, DNB (GEN SURGERY), FMAS,
FIAGES, Fellow in Adv lap.
Dr. Abhijit B. Gotkhinde is one of the Qualified basic & advanced Laparoscopic Surgeon and the best Laser Surgeons in the Hadapsar, Pune. He believes in delivering the most authentic and top-class services in Piles, Fissure, Fistula Treatments also Hernia Treatments like Epigastric Hernia, Umbilical hernias, Epigastric hernia, Inguinal hernia, Femoral Hernia.
He has extensive experience in GI & Colorectal surgeries. He has a special interest in Laparoscopic surgery (cholecystectomy, Appendectomy, Hernia, Hysterectomy & Hiatal surgery) and minimal access proctology surgery. (Piles, fissure & fistula).
There are various types of Hernia occurred in people. These hernias types include hiatus, incisional, and umbilical hernias. Symptoms are present in about 66% of people with Groin Hernias. So for that many treatments can be done for various Hernia Treatment within Laparoscopic Surgery Treatment. After trying various methods without complete information and knowledge many people fail to achieve the desired Laparoscopic Surgery or Laser Surgery for Hernia and Piles Treatment.
A well Qualified Professional in Laparoscopic Surgeon has the knowledge, expertise, and experience to treat patients who suffer from Hernia Treatments like Epigastric Hernia, Umbilical hernias, Epigastric hernia, Inguinal hernia, Femoral Hernia and Piles, Fissure, Fistula Treatments also.
Ultra Care Clinic is proud to say that we offer affordable quality care without any compromise, by a Qualified surgeon Dr. Abhijit Gotkhinde.
Watch Video
I met Dr. Gotkhinde for laparo chole surgery for gall stone. I want to treat it with medicine only. But with his knowledge of subject , crystal clear thinking and confidence I decided my mind and operated with him. In operation room I remember only one injection and when I woke up, surgery was over. Very little pain after surgery. Got discharge in 2 days.Thanks doctor.
After my difficult c section, I developed a hernia, I was really scared. My gyne sends me to Dr. Abhijit. It was a great decision to go with him. He done laparoscopy. My experience of surgery was exactly the same as what he told me before. He is a perfectionist surgeon.
Dr. Abhijit Gotkhinde sir operated my father for piles using a laser technique. Initially, we were quite anxious but after discussing with him about the procedure we felt confident. Surgery was done in less than 30 min & it was absolutely pain-free. He recovered in a single day. Within 1 week he is ready to work. Now we are thinking we would have done the procedure prior only. I must say, Dr. Gotkhinde is the best laser surgeon for piles.